Moderators: Big Lazy, Moderators
wtf? wrote:like looking for mensa candidates in a jerry springer trailor park
don't click this link...
---
---
that dude is awesome!
I sure as hell wouldnt want to face him!
---
---
Hes cheating, he can't be put in arm locks/bars and any foot/leg locks/bars.
Mos wrote: Americans
Mos wrote: ill say it again Americans
Simoriax wrote: well what do you know, i love americans!
---
hmmm... just when you think you've seen it all.

im really quite proud to be part of the arts, at times like this. hats off to the guys. and certainly puts a downer on those people who make excuses not to train properly...

"i have no arms, and no legs... im a head on a torso, and barely anything else... whats YOUR excuse again?" ......priceless. and again... hats off to the guy.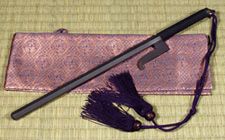 God i LOVE these things.
Im not sure what weapons will be used to fight WWIII, but i know that WWIV will be waged with wooden sticks.
---
Posts: 1173
Joined: Mon May 22, 2006 2:02 pm
Location: South Yorkshire
What he lacks physically, he certainly makes up for in spirit. There's a lesson there somewhere. What a guy.
---